Why ESA Medical is the Best Source to Buy Pad Sizes for Stimulation Therapy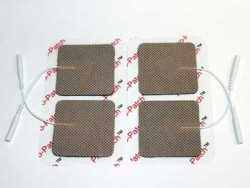 When it comes to an effective electrotherapy approach, size matters - when selecting and applying TENS pads for pain management. With the right size electrodes are applied to the area of the body where the pain is at its source, you can be sure that your muscles and nerves receive the low energy electrical current needed to help relieve discomfort.
When shopping online for electrodes, do you find it difficult to pinpoint a specific unit pad size? It would probably make the task less tedious if they were all accessible in one place. Here at ESA Medical, that's exactly what we strive to offer our customers - a convenient shopping experience. We carry a range of stimulation pad sizes to suit every area of the body that's enduring pain.
Whether the source of pain is your lower back, calf, or shoulder, you'll be able to find the ideal size pad that will allow the electrical current to reach the nerves and muscles. Our online store offers clinically proven TENS unit pads from a small circle size of 1.5" x 1.5" to a large rectangular size of 1.75" x 13.5". Medium sizes, as well as butterfly shapes, are also available.
Choosing an Electrode Size
The size of the electrode you should use depends on the area of pain you want to target. All of our pads work with any pin type connector stimulation device and are designed for superior adhesion and longevity. Different size pads may work better on specific regions of the body.
For example, if you have knee pain, you can place two small square-shaped electrodes above and below the knee to help strengthen the quads. However, if the pain is more severe, you can use medium size pads to increase the level of stimulation.
The reason we have a wide variety of electrode sizes is because we manufacture all of our products through our separate division, ProMed Specialties. You can always rely on us at ESA Medical to have the electrodes you need. We offer multiple sizes in every brand we carry, from Stim-Patch and Eco-Patch, to Flex-Plus and Pro-Patch.
Explore through the inventory on our website today to see our electrode sizes. For assistance, call us by dialing 1-800-834-TENS.