Flex-Plus Electrodes are Superior Quality and Designed for Incredible Flexibility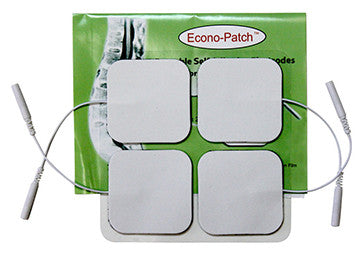 How many electrotherapy pads have you gone through? If you're frequently facing the cost of replacing your reusable electrodes, then you have a problem. The cost of rehabilitation or pain management should not be one that is measured by the inefficiency of your electrodes. Instead, it should be by the effort you are putting in with the utilization of high caliber products like our Flex Plus electrodes. This product is of clinical quality, providing you with:   
Longer usage

Various sizes

Accuracy

 
Because of its unique black foam back and extremely fine wire mesh conductor, our Flex-Plus electrodes have incredible flexibility. This provides a better adhesion to your skin surface and allows for the electrode to last much longer than other products. While also coming in various sizes, the wire mesh is capable of melding to all body contours and pinpointing the source of pain more accurately. It is available in round, oval, square, and rectangular shapes, making for a perfect fit.   
Your comfort is important; with our Flex-Plus electrodes, that is no longer a worry for you. At ESA Medical, we pride ourselves on having an easy solution for all different types of customers, such as: 
Pain clinics

Chiropractors

Rehabilitation facilities

Physician offices

Physical therapy facilities

Personal buyers

And much more!

 
We are here to ensure you receive a quality product that delivers a long life-expectancy. In this, you will not only save money, but you will also have a better experience in your rehabilitation or pain management. If you are in need of a more efficient electrotherapy pad for your EMS unit, TENS unit, or any other electrical stimulator or electronic massager that uses pig-tail type electrodes, you have come to the right place.   
The gel adhesive used in our Flex-Plus electrodes is both well-known and United States-made. It extends the life of your electrode, stretching your budget, and making for a better experience. Our electrodes for sale are the best in the market, giving you efficiency, choice, and flexibility. Next time you need to replace your electrotherapy pads, consider our Flex-Plus electrodes. It's a decision you will not regret.